A true entertainer in every sense of the word, Louis Prima was a singer, trumpet player, and band leader who had an unmistakable style that leaned into his Italian roots, opening the door for performers to embrace their background over concealing it. Louis Prima was a favorite of mine as the orangutan King Louie in The Jungle Book as a kid and remained so as I discovered more and more of his music over the years.


420 to 30: A Music Retrospective
60 Weeks to 30 Years-Old, with 420 Songs by 60 Different Artists
Here's 7 of my favorites from Louis Prima.
Week 36: LOUIS PRIMA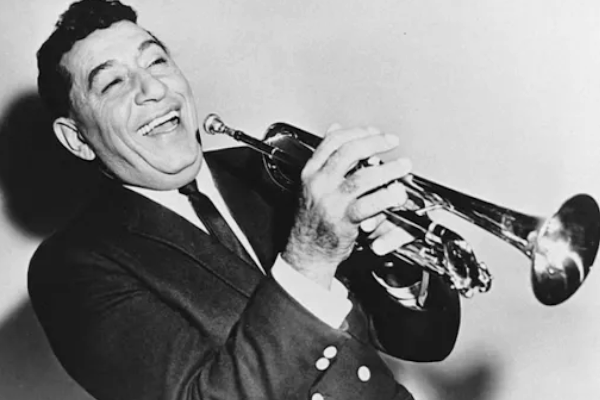 ---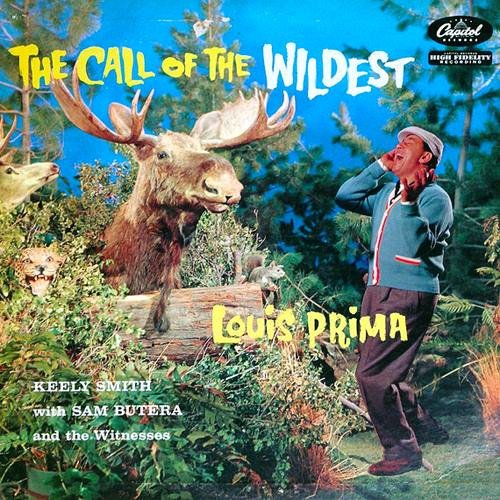 #245/420 - Louis Prima, "When You're Smiling (The Whole World Smiles with You)/The Sheik of Araby"
(originally from 1957, The Call of the Wildest)
Louis Prima was known for his medleys and this combo from 1957 is one of his best, and wildest. About as crazy as the album cover, it spins around at a pace that almost has Louis himself sounding like he's barely hanging on for the ride. It's Louis, Keely Smith, and their bandmates at some of their finest.
And when you're laughing… Oh, you're laughing.
Mmm, man, the sun comes shining through.
---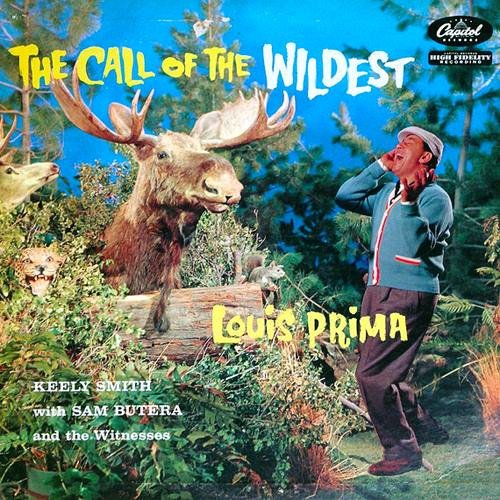 #246/420 - Louis Prima, "Pennies from Heaven"
(originally from 1957, The Call of the Wildest)
Shooby-dooby and macaroni, this is a fun bout from Louis taking on this jazz standard on his
Call of the Wildest
. The horns echoing Louis' singing really make the song, as does Louis trying to lose them and trip them up with his colorful vocals. Though actual pennies raining in ambush from the sky could be deadly, here it is a pleasant joy and lucky fortune, being caught in upside-down umbrellas.
It's my favorite version of this song and one of my favorites from Louis Prima.


---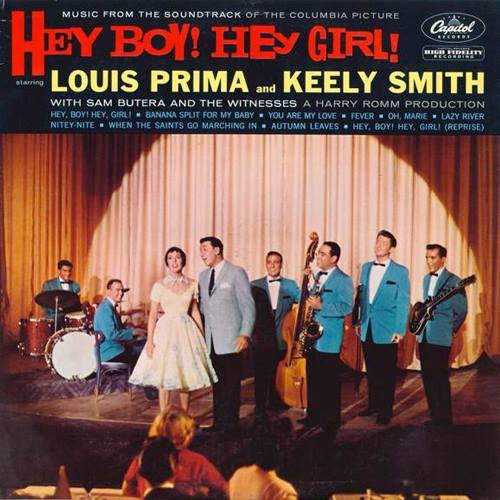 #247/420 - Louis Prima, "Lazy River"
(originally from 1959, Music from the Soundtrack of the Columbia Picture Hey Boy! Hey Girl!)
I first heard this on a Louis Prima
Collectors Series
CD I bought while living in Chicago in 2007 and it was my favorite of those on there that I had never heard previously. It's one of the best rising action songs I've come across where each verse increases pace and insanity levels, a perfect fit for the manic style of Louis Prima. I recall playing this for a good friend, a bit of a hip hop head, who found this CD in my apartment, questioning my musical taste, and winning him over with this song. No matter your music taste or background, there's plenty to admire about Louis Prima and his passion and delivery, and this song has it.
(Just be careful not to accidentally speed when listening while driving.)


---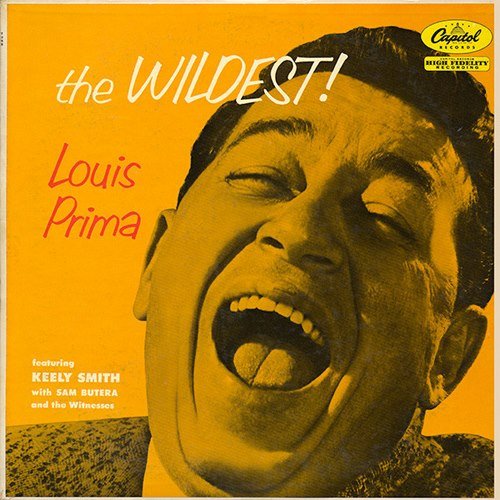 #248/420 - Louis Prima, "Oh, Marie"
(originally from 1956, The Wildest!)
During high school, a few musician friends and I got together with the intent of practicing a song we would perform publicly at school. The song: this one. It was a ton of fun to rehearse, even though it never came to public fruition, as many great ideas never do. We even had a sax player to imitate Sam Butera's back and forth with Louis, a real challenge to imitate the hilarity and precision of. And we chose it, of course, because it's one of Louis' best, and wildest(!), definitely among my favorites.
---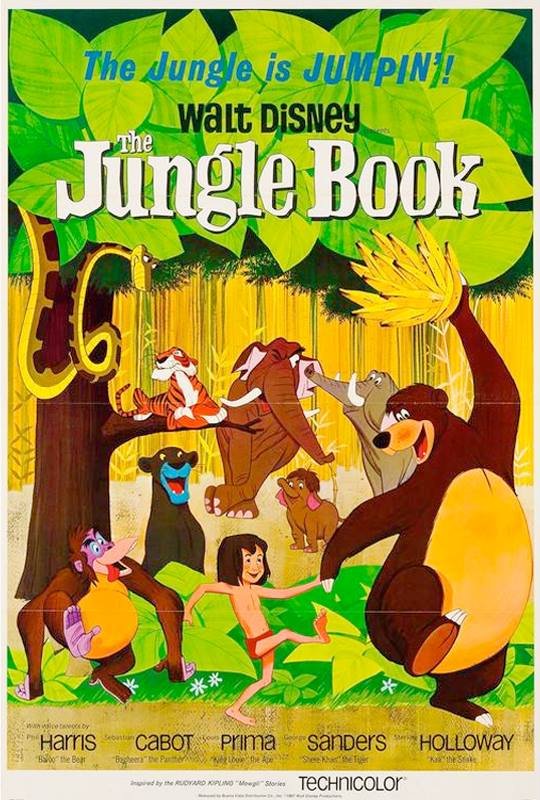 #249/420 - Louis Prima & Phil Harris, "I Wan'na Be Like You"
(originally from 1967, The Jungle Book)
My favorite Disney cartoon as a kid and favorite song from a Disney movie is this swingin' jazz number in
The Jungle Book
, featuring Louis Prima as the scatting orangutan, King Louie, and Phil Harris as Baloo the Bear (later, Little John in
Robin Hood
and Thomas O'Malley the alley cat). It's a cool, diverse, and fun piece with an interesting narrative, despite not existing in the source material. Here, the apes/monkeys view their inability to create fire as the impasse to their humanity, and beg the man cub to teach them, calling it "man's red flower" (years before Mario made that literal) which I quite enjoy.
But for all the great writing and excellent animation, it shines most brightly in the music itself. The chill drum playing in the intro is the best with the light keys coming in and the master himself, Louis Prima. Then you get two very talented vocalists going at it in a simian scat battle. The entire sequence featuring Louis is just this entire musical number and yet it is one of the most memorable scenes in any Disney picture for me.
Later in the movie, the vultures were intended to be played by The Beatles (who they are obvious references to) but sadly this did not happen to solidify this as the best Disney cartoon ever, but it's still one of my very favorites, even if it's not exactly Rudyard Kipling's "The Jungle Book". Worth it for the soundtrack. Also a fan of "Bare Necessities" and "Colonel Hathi's March".


---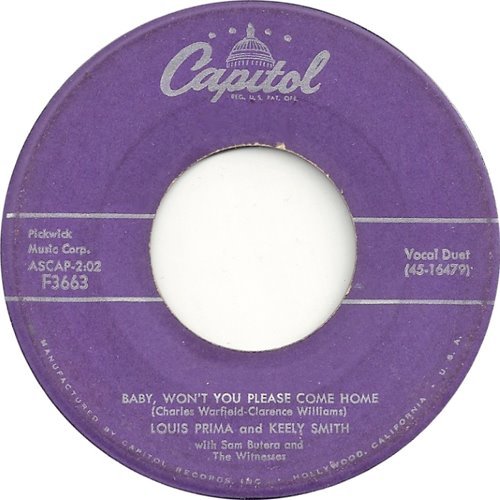 #250/420 - Louis Prima & Keely Smith, "Baby, Won't You Please Come Home"
(originally from 1957, "Sentimental Journey/Baby, Won't You Please Come Home")
Despite an age difference of 18 years, Louis Prima and Keely Smith were married from 1953 to 1961, during which time some of Louis' and Keely's best music was released, as a duo. My favorite of theirs is this duet. While Louis was known for his incredible liveliness and geniality, Keely was known for being deadpan, and it made for a delightful contrast between the two as performers. Vocally, Louis is unpredictable and improvised, while Keely is steady and classically melodic. This is not only a great song, but a great showcase of those talents working together.
Just listen to the difference in the way the deliver the line, "baby, won't you please come home," and the difference is immediately apparent. Louis is the lightning and Keely is the wind.
Their marriage did not last, but their music stands the test of time.


---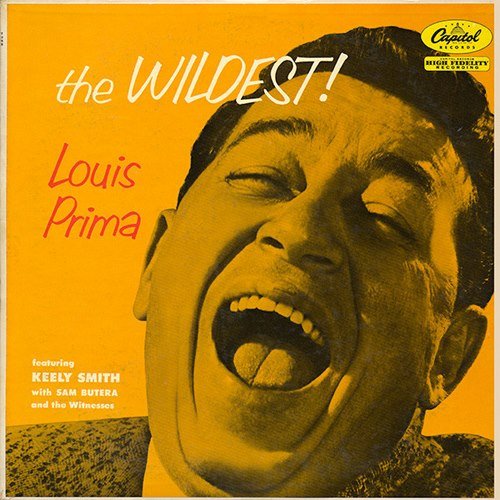 #251/420 - Louis Prima, "Just a Gigolo/I Ain't Got Nobody (and Nobody Cares For Me)"
(originally from 1956, The Wildest!)
Though Louis Prima had successfully fronted various bands since his late teens in the 1920s, it wasn't until the 1950s where his most popular and iconic recordings emerged when he was joined by Sam Butera and the Witnesses, as well as his wife-to-be, Keely Smith. Their first album as a unit was The Wildest! and its first track remains one of their very most memorable, as well as my personal favorite. It's another medley that takes two songs with no previous connection and makes them almost inseparable in the pop culture zeitgeist. It's become near-impossible to hear "I'm just a gigolo," without anticipating the break into, "I ain't got nobody!!" though the two were never previously connected.
There's some great sax playing here from Sam Butera and harmonies from Keely Smith that really add to the power already exuded by Louis with the vocals. It's lyrically rich as well, written by Austrian lyricist Julius Brammer in the 20s and adapted into English by Irving Caesar, lines like, "When the end comes, I know, they'll say, 'just a gigolo' as life goes on without me," transcend time and place. Life goes on without any of us and we're all "just a" something. Might as well sing about it and enjoy what we do get!
Louis Prima was one of the stand-out talents in an era of many incredible talents. Tragically, at the end of his life, he went into a coma following a cerebral hemorrhage in 1975, and died three years later. The aforementioned line from this song is engraved on his tomb in New Orleans where he entered and exited this world. Life goes on without Louis, but so does his music.
When my nephew was not even two years-old, we had a punny Halloween skeleton decoration that played a knock-off of this song in the style of Louis Prima, and he would repeatedly beg for us to press the button to hear the song over and over and rock around like crazy to the music. Certainly heart-warming to see this great music still resonating with a child all these decades later. Good taste and good blood in the family too, I must add!


---
Next week, we'll be revisiting another larger-than-life presence in the music industry who is also no longer with us. He was so big, he went by it. One of the greatest rappers of all time, Christopher Wallace, The Notorious B.I.G.
420 to 30: A Music Retrospective
60 Weeks to 30 Years-Old, with 420 Songs by 60 Different Artists
Week 1: Johnny Cash
Week 2: The Jackson 5/The Jacksons
Week 3: A Tribe Called Quest
Week 4: Weezer
Week 5: Bob Dylan
Week 6: Led Zeppelin
Week 7: 2Pac/Makaveli
Week 8: Billy Joel
Week 9: Electric Light Orchestra
Week 10: Elvis Presley
Week 11: Dr. Buzzard's Original Savannah Band
Week 12: The Jimi Hendrix Experience
Week 13: Nirvana
Week 14: The Doors
Week 15: The Rolling Stones
Week 16: Gnarls Barkley
Week 17: Gábor Szabó
Week 18: Galaxie 500
Week 19: Simon & Garfunkel
Week 20: Gorillaz
Week 21: Ennio Morricone
Week 22: The Moody Blues
Week 23: Koji Kondo
Week 24: Rob Zombie/White Zombie
Week 25: Paul McCartney/Wings
Week 26: George Harrison
Week 27: Phil Spector
Week 28: John Lennon/Plastic Ono Band
Week 29: Public Enemy
Week 30: The Love Language
Week 31: Barry White
Week 32: Frank Sinatra
Week 33: David Bowie
Week 34: Queen
Week 35: The Offspring
FULL PLAYLIST ON SPOTIFY
View the full list of "420 Songs" here: https://tinyurl.com/y8fboudu (Google spreadsheet link)