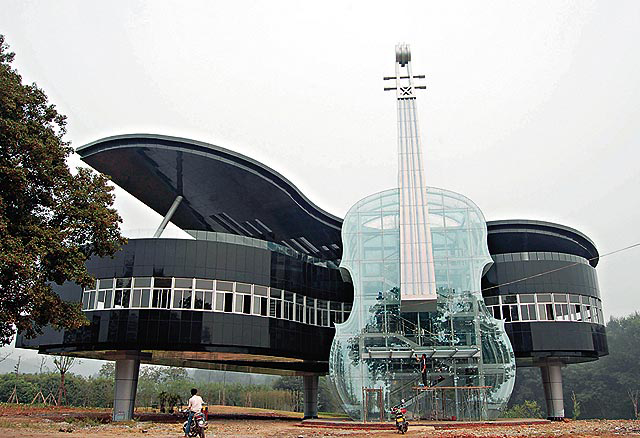 You know so many people can't just do without music and so many can't do without playing the musical instrument and of all the musical instruments, my heart, soul, and spirit go out to piano and guitar.
I had taken up piano lessons but I dropped out on the way, something I don't find exciting to talk about.
Sabes que muchas personas no pueden prescindir de la música y muchas no pueden prescindir de tocar el instrumento musical y de todos los instrumentos musicales, mi corazón, alma y espíritu van al piano y la guitarra.
Había tomado lecciones de piano pero lo abandoné en el camino, algo de lo que no encuentro emocionante hablar.
My research and background study for today is a musical instrument-inspired architectural building.
I knew I wouldn't find one in a nearby country and without much guess you know where you can find such stunning buildings and structure.
And that is the great country of China. I call them wizard because I don't think there is anything they can't manufacture or produce except human beings :)
Mi investigación y estudio de antecedentes para hoy es un edificio arquitectónico inspirado en instrumentos musicales.
Sabía que no encontraría uno en un país cercano y, sin mucho adivinar, sabes dónde puedes encontrar edificios y estructuras tan impresionantes.
Y ese es el gran país de China.
Los llamo magos porque no creo que haya nada que puedan fabricar o producir excepto seres humanos :)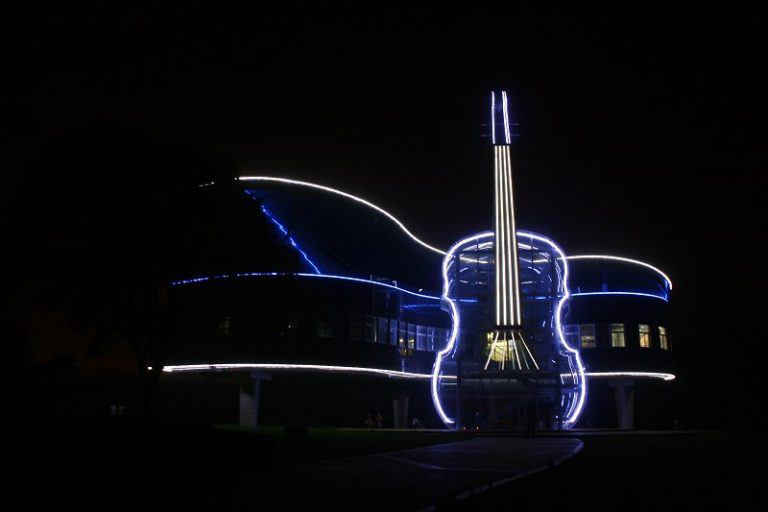 The great musical instrument-inspired building is found in Huainan, Anhui Province, China.
History has it that, the piano building is perhaps one of the most beautiful buildings in China, and if you are a fan of both music and architecture, then this just might become your favorite architectural building design in the world.
El gran edificio inspirado en instrumentos musicales se encuentra en Huainan, provincia de Anhui, China.
La historia dice que el edificio del piano es quizás uno de los edificios más bellos de China, y si eres un fanático de la música y la arquitectura, entonces este podría convertirse en tu diseño de edificio arquitectónico favorito en el mundo.
Now you see why I started this post talking about music lovers?
I mean wouldn't you want to live in such a heavenly building? Who wouldn't?
¿Ahora ves por qué comencé esta publicación hablando de amantes de la música?
Quiero decir, ¿no le gustaría vivir en un edificio tan celestial?
¿Quién no lo haría?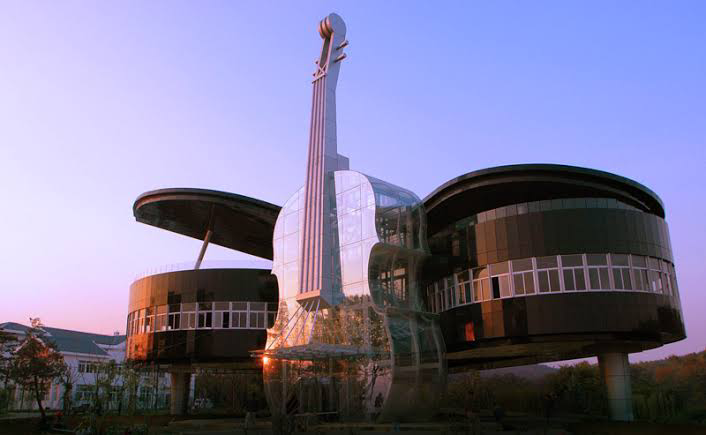 The building was designed by architectural students at the Hefei University of Technology in collaboration with the Huainan Fangkai Decoration Project and was built in 2007 to improve the economy and encourage tourism in the city.
El edificio fue diseñado por estudiantes de arquitectura de la Universidad Tecnológica de Hefei en colaboración con el Proyecto de Decoración Huainan Fangkai y fue construido en 2007 para mejorar la economía y fomentar el turismo en la ciudad.
The Piano Building is an awesome architectural design that uses a 50:1 scale of a grand piano and a violin, designed almost entirely with black and transparent glass.
The Piano Building es un impresionante diseño arquitectónico que utiliza una escala 50: 1 de un piano de cola y un violín, diseñado casi en su totalidad con vidrio negro y transparente.
The glass violin serves as an escalator and a staircase to make your way through the different floors of the main piano building.
The transparent glass windows signify
El violín de vidrio sirve como escalera mecánica y escalera para recorrer los diferentes pisos del edificio principal del piano.
Las ventanas de vidrio transparente significan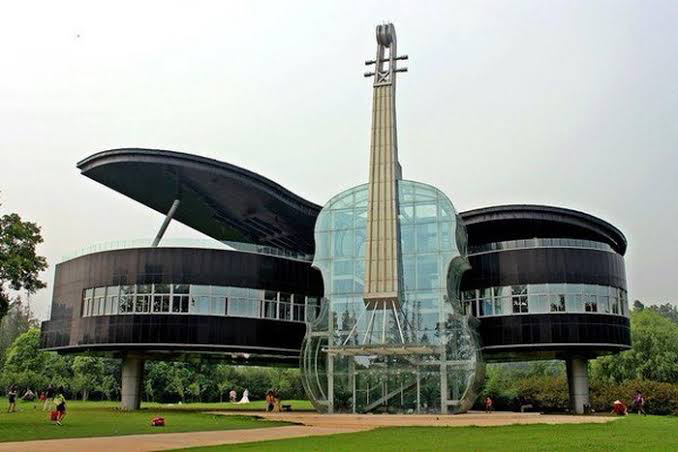 The piano is built with three pillars just like in the normal musical piano. Everything about this building is inspired by the musical instrument and its design according to the structures of those instruments
El piano está construido con tres pilares al igual que en el piano musical normal.
Todo en este edificio está inspirado en el instrumento musical y su diseño de acuerdo con las estructuras de esos instrumentos.
The piano structure is built on three concrete legs and is made from hundreds of black glass panels interspersed with clear and white glass to represent piano keys. A roof terrace is sheltered beneath a canopy shaped like the propped-open lid of a piano.
La estructura del piano está construida sobre tres patas de hormigón y está hecha de cientos de paneles de vidrio negro intercalados con vidrio transparente y blanco para representar las teclas del piano.
Una terraza en la azotea está protegida debajo de un dosel con la forma de la tapa abierta de un piano.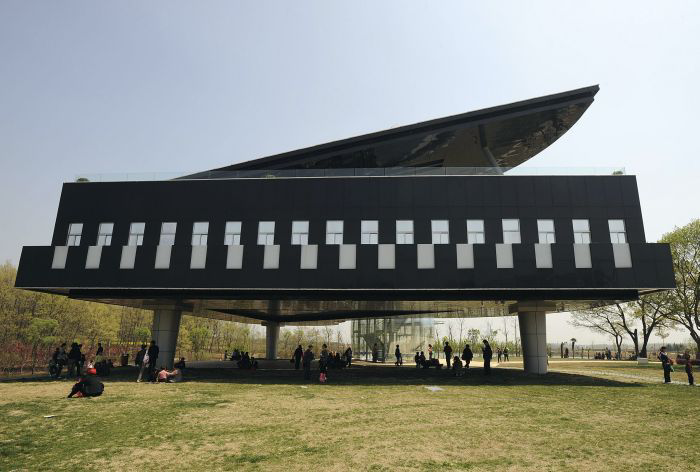 This lovely musical building serves as a great place for tourist attraction.
It's also a place suitable to spend time and lovely moments with family and loved ones.
Este hermoso edificio musical sirve como un gran lugar para la atracción turística.
También es un lugar adecuado para pasar momentos agradables con la familia y los seres queridos.
China is one of the countries with the best and stunning architectural buildings and structures.
China es uno de los países con los mejores e impresionantes edificios y estructuras arquitectónicas.
To be outstanding in this field of work, one must think beyond the normal.
Be inspired by something and be creative about everything.
Doing the normal thing in an abnormal way.
Para sobresalir en este campo de trabajo hay que pensar más allá de lo normal.
Inspírate en algo y sé creativo en todo.
Haciendo lo normal de forma normal.
This lovely building was designed by University students and not some kind of a professional architect.
And I am so awed by that information.
Now I wish I didn't divert from the architectural field because of fear of the unknown.:(
Este hermoso edificio fue diseñado por estudiantes universitarios y no por algún tipo de arquitecto profesional.
Y estoy tan asombrado por esa información.
Ahora desearía no desviarme del campo de la arquitectura por miedo a lo desconocido. :(
All the same, I hope you like today's article.
See you next time on more research works and materials.
De todos modos, espero que les guste el artículo de hoy.
Nos vemos la próxima vez en más trabajos y materiales de investigación.