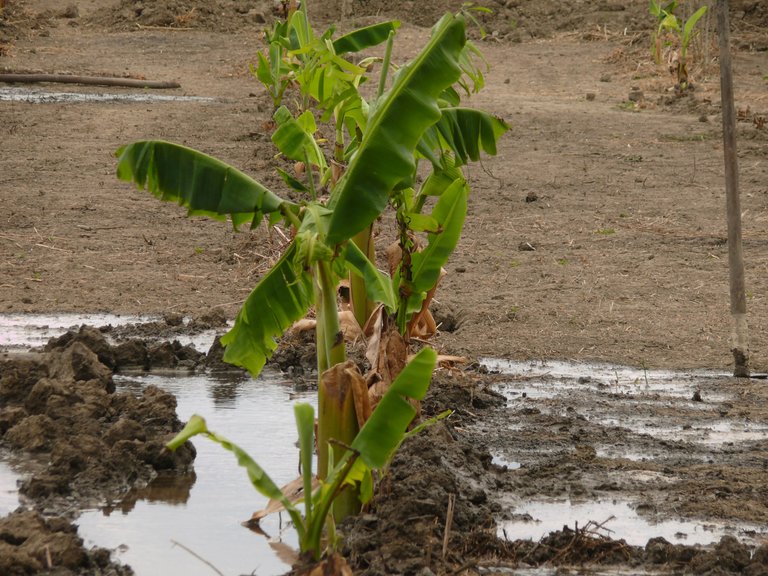 Greetings, my dear Earthlings. Finally, after a year and some work every time the community put in a few days to dedicate that time to removing hoses and already in the last month working among a few, of 29 smallholders only 4 went, and of course, I And sometimes I also put someone who is working for me to help, it is with a pick and shovel and in some places it was really hard, but at least we already got enough to bring the water to my land and thus be able to irrigate through pipes, of the water sent by the pump from the communal well. The thing is that we still need to get about 100 meters that are right in the middle of my land, so that is a good time to work because we are very few, for the number of people we should be, but hey, what is done, like this it's the people, haha. The important thing is that there is little left and I enjoy the water, so things change, let's plant.

Saludos, mis estimados terrícolas. Por fin, después de un año y algo de trabajar cada vez que la comunidad colocaba algunos días para dedicar ese tiempo a sacar mangueras y ya en el último mes trabajar entre unos pocos, de 29 parceleros solo 4 iban, y claro por supuesto, yo y algunas veces también ponía a alguno de los que me esta trabajando a ayudar, es a pico y pala y en algunos lados la verdad estaba duro, pero al menos ya sacamos suficiente para llevar el agua hasta mis tierras y así poder regar por tubería, del agua que envía la bomba desde el pozo comunal. La cosa es que aun falta sacar unos 100 metros que están justo en medio de mis tierras, así que eso es un buen tiempo de trabajo porque somos muy pocos, para la cantidad de personas que deberíamos ser, pero bueno, que se hace, así es la gente, jaja. Lo importante es que ya falta poco y disfruto del agua, así que las cosas cambian, a sembrar.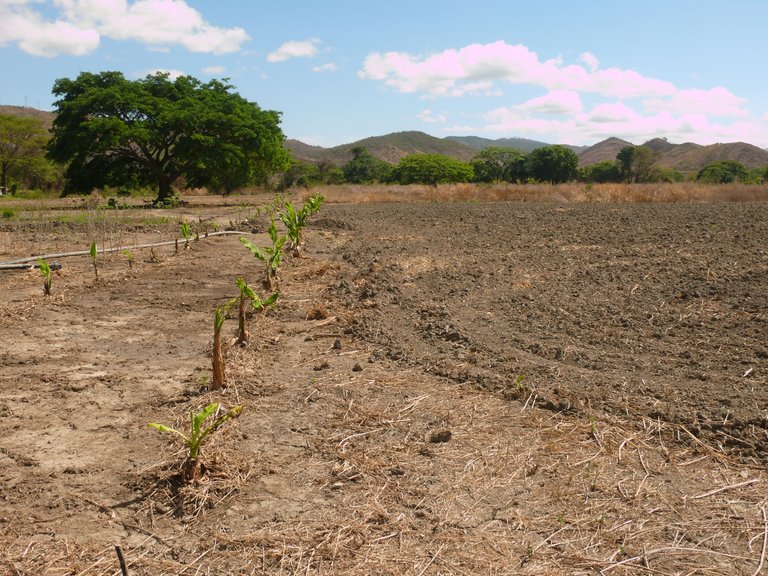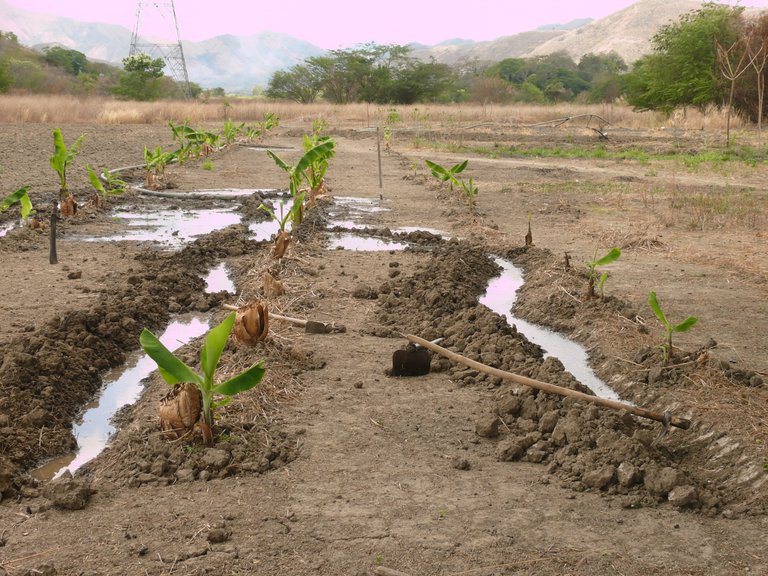 With the desire to water (and a little lack of experience, we started to make the ditches that will serve as channels to water the plants, but since the land was very dry, it was hard and my nephews helped me so they were not very aesthetic Let it be said, on the other side I only wet the earth on top when I watered yesterday we made the ditches, and since the earth was wet we were able to make them much easier and also aesthetically they were excellent, so I thought about covering the ones we made on Sunday and water over the top, to start over, but this time, make them straight, and place them well, a little closer to the plants.

Con las ganas de regar (y algo de falta de experiencia nos pusimos ha hacer las zanjas que servirán de canales para regar las plantas, pero como la tierra estaba muy seca, costo por lo dura y mis sobrinos me ayudaron así que no quedaron muy estéticas que se digan, del otro lado solo moje la tierra por encima cuando regué ayer hicimos las zanjas, y como la tierra estaba mojada las pudimos hacer mucho más fácil y además estéticamente quedaron excelentes, así que he pensado tapar de nuevo las que hicimos el domingo y regar por encima, para comenzar de nuevo, pero esta vez, hacerlas rectas, y colocarlas bien, algo más pegadas a las plantas.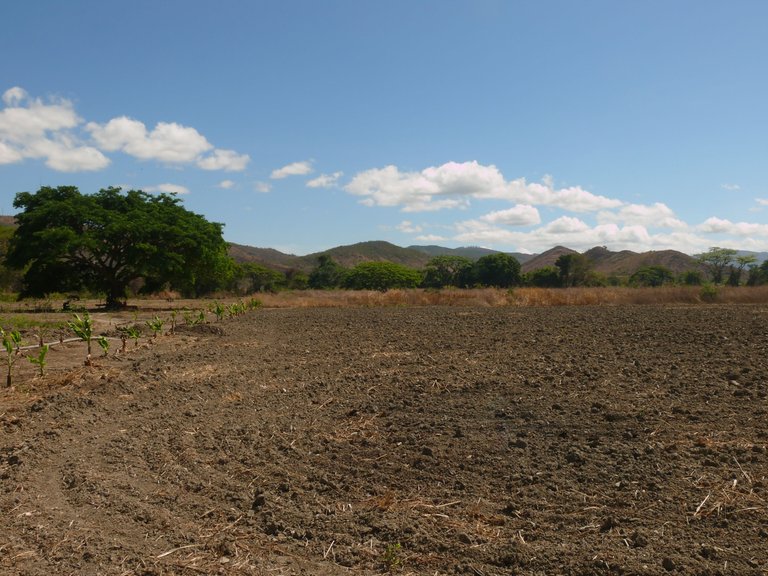 With water things change, in a previous publication I showed how I invested to track that side, with the experience of trial and error, I know that now before I furrow or make the ditches to irrigate (because I must irrigate by gravity) I am going to wet that land and thus make it more moldable, although I am waiting, because they told me that they are going to bring a machinery that charges a cheap price, so I want to give it another harrow pass and make the furrows with a machine, that is very fast like that and save time Man, manual labor, so I'll keep investing that extra money I'm making from posts and games for the great price of our Hive coin right now and of course the LEO. Although with so much work in the field project, I do not have time to publish, because I arrive exhausted and I must see how I solve that, because the impact project in the field is only possible, thanks to Hive and LEO, of what I earn with My publications, I clarify that nobody finances me directly, but thanks to you for your vote, from what I earn, I try to get the project afloat. I am trying to encourage my son and his girlfriend to get up and help me a little in the garden, I told them that they can post about their individual work, how is the experience of sowing, seeing those little seeds grow and bear fruit, what that one feels, it would be wonderful if I achieve that, to form a community that writes in Hive and Leofinance about the experience and thus show the great positive impact of our network ecosystem in the field.

Con agua las cosas cambian, en una publicación anterior mostré como invertí para rastrear ese lado, con la experiencia del ensayo y error, se que ahora antes de surcar o hacer las zanjas para regar (porque debo regar por gravedad) voy a mojar esa tierra y así hacerla más moldeable, aunque estoy esperando, porque me dijeron que van a traer una maquinaria que cobra un precio económico, así que quiero darle otro pase de rastra y que hagan los surcos con maquina, que eso es muy rápido así y ahorrar tiempo hombres, de trabajo manual, así que seguiré invirtiendo ese dinero extra que estoy ganando con las publicaciones y los juegos por el gran precio que tiene nuestra moneda Hive en este momento y por supuesto, el LEO. Aunque con tanto trabajo en el proyecto del campo, no me da tiempo de publicar, porque llego agotado y debo ver como resuelvo eso, porque el proyecto de impacto en el campo es solo posible, gracias a Hive y LEO, de lo que gano con mis publicaciones, aclaro que nadie me financia directamente, pero gracias a ti por tu voto, de lo que gano, trato de sacar el proyecto a flote. Estoy tratando de animar a mi hijo y a su novia para que se incorporen y me ayuden un poco en el huerto, les dije que pueden publicar sobre su trabajo individual, como es la experiencia de sembrar, ver crecer esas pequeñas semillas y dar frutos, lo que uno siente, seria maravilloso si logro eso, ir formando una comunidad que escriba en Hive y Leofinance sobre la experiencia y así dejar ver el gran impacto positivo de nuestro ecosistema de la red al campo.

That tree that you see there, is a Caro, under its shade is where we rest and meet as a family, we make the food and of course we enjoy that food, I love that shade of the expensive, it is very fresh and as I still do not make a roof (Which will be the next investment, after finishing the preparation and planting of that area that I showed before.

Ese árbol que miran allí, es un Caro, bajo su sombra es donde descansamos y nos reunimos en familia, hacemos la comida y por supuesto disfrutamos de ese alimento, yo amo esa sombra del caro, es muy fresco y como aun no hago un techo (cosa que será la próxima inversión, luego de terminar la preparación y siembra de esa área que mostré antes.
There is the food, on the stove, the food dances to a rhythm that the candle marks, it with its aroma seduces the smell that transmits sensations, the wind is that cupid that carries messages to lovers, the stomach, when seeing his beloved is happy and it is there that he begins the dance that begins the party. Sacred food that comes from the earth: rice, beans, chili, onion, garlic, chives, salt. They are mother earth giving their mother's milk.

Allí esta la comida, sobre el fogón, el alimento danza a un rimo que la candela marca, ella con su aroma seduce al olfato que transmite sensaciones, el viento es ese cupido que lleva los mensajes a los enamorados, el estomago, al ver a su amada se alegra y es allí donde comienza en baile que inicia la fiesta. Sagrada comida que vienes de la tierra: arroz, frijoles, ají, cebolla, ajo, cebollín, sal. Son la madre tierra dando de su leche materna.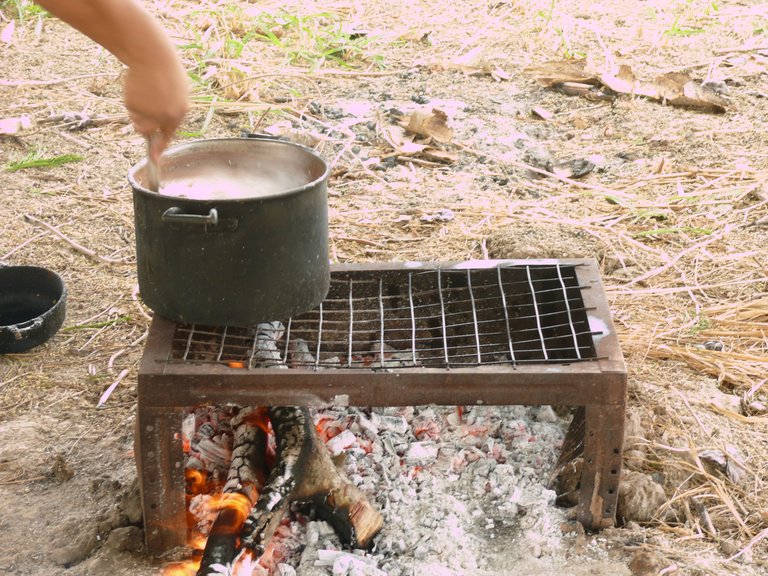 This is where history is being written, a change, an example for others, effort, dedication, love for the land, for the countryside, for nature and for ourselves.

Allí es donde se esta escribiendo la historia, un cambio, el ejemplo para otros, esfuerzo, dedicación, amor por la tierra, por el campo, por la naturaleza y por nosotros mismos.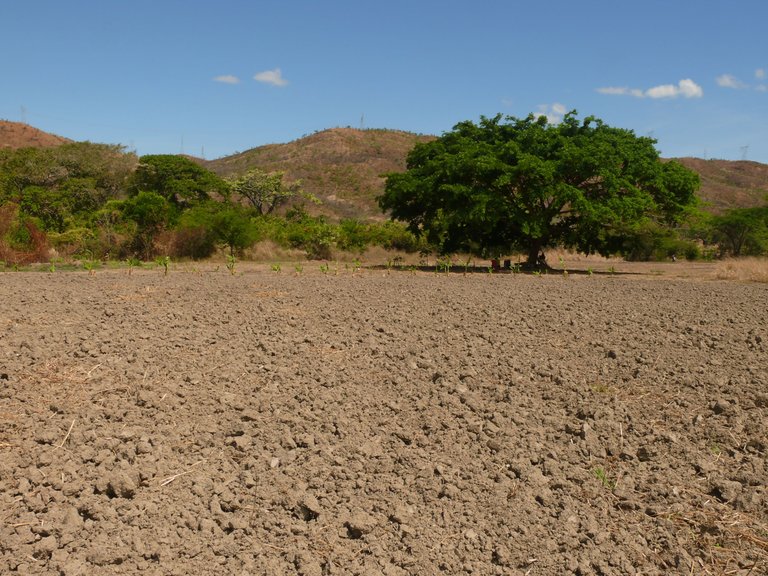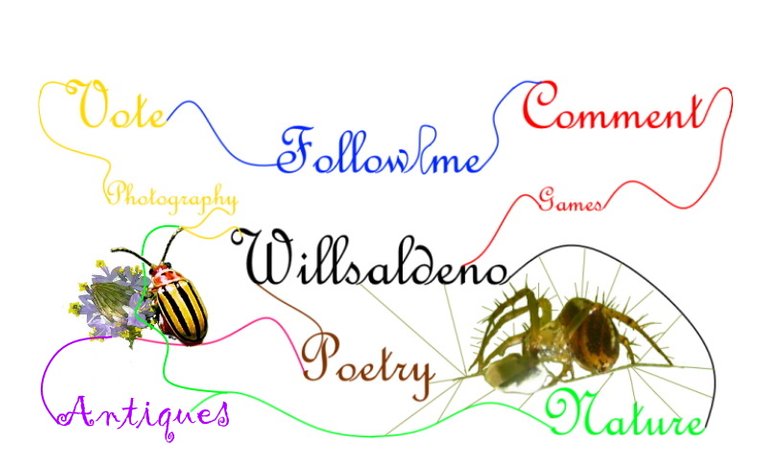 This is where the lyrics go for today, I invite you to continue looking a little more of this world in the next publication, I hope it will be tomorrow, or later, maybe the voice will be seen or will let you see something about games, so if you liked it What is being done for you here, do not hesitate to support the work with something positive, below I invite you to:

Hasta aquí llegan las letras por hoy, les invito a seguir mirando un poco más de este mundo en la siguiente publicación, espero sea mañana, o más tarde, quizás la voz verse o o deje ver algo sobre juegos, así que si te ha gustado lo que se hace para ustedes aquí, no dudes en apoyar el trabajo con algo positivo, allí abajo te invito a: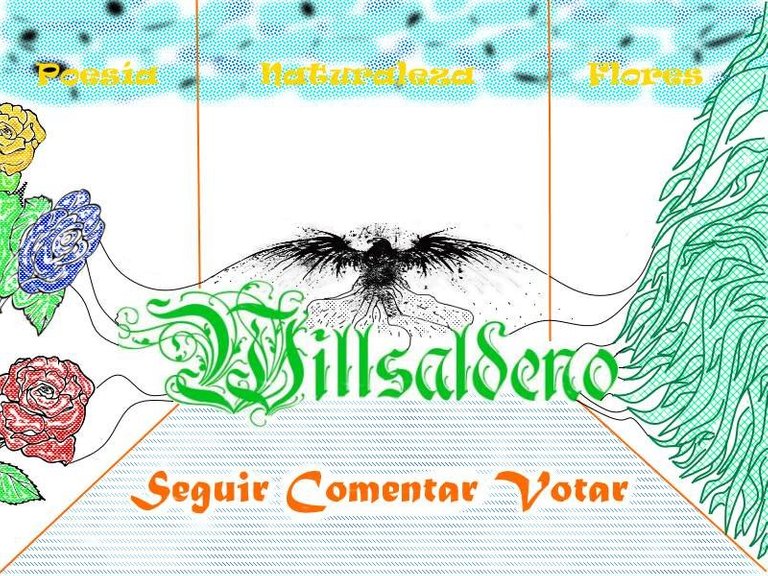 Nota-Note
Bilingüe: Que utiliza dos lenguas al mismo nivel o se hace en dos lenguas
Bilingual: That uses two languages ??at the same level or is done in two languages.
Camera: Panasonic Lumix DMC-FZ50.



Lent: Leica 1: 2.8-3.7 / 7.4-88.8.

Location: Villa de Cura.



Original photographs of willsaldeno, I do not edit the photos, because I like to put only what I achieve with the camera and not something improved with an editor.