It is amazing that Hive is still in its first year. While it is true that we have the legacy chain from Steem, just under a year ago, the blockchain was forked providing a brand new direction for the community.
Certainly the first 12 months were not without some pitfalls. However, since the fork, the way the community responded is incredible.
The biggest different is the amount of development and innovation that is taking place. Everywhere we look, there are either upgrades or completely new projects being released. In fact the pace is such that it is impossible for one person to keep track of it all.
This means that we are now seeing a great deal more opportunity nestled within our section of the blockchain world. It is a situation that is putting many in a dilemma. We each have a finite amount of resources, whether it be financial or with our time. Thus, we are having to accept that we cannot be involved in every great project that comes along.
Nevertheless, that is the magic of blockchain. As long as one is holding HIVE, indirectly the success of every project feeds upon the value of that token. As projects expand, and we reach the breakthrough point of a couple different ones, that is when we will see the explosion.
The development is there; next up will be the increase in userbase.
Hive is offering a menu of opportunities. This is something that is providing a solid foundation. What started out, originally, as a blogging platform has expanded greatly. We have gaming, finance, NFTs, and video content. There is also the soon to be released "twitter on the blockchain".
What is exciting is each of these areas is growing.
Throughout the early part of this year, we saw Hive-Engine decentralize its operation to a much greater degree. They also added a lot of other options, moving it more towards what is being done on Ethereum. This was a big step forward.
At the same time, the gaming sector is exploding. Updates to @cryptobrewmaster, Rabona, and Exode are really making them viable options for true gamers.
Finally we see the social media offering growing. We soon will be at the point where we have an alternative to not only Medium/Reddit but also YouTube and Twitter. This covers a wide section of the social media spectrum. Perhaps we will see an Instagram and Facebook option showing up at some point in the future.
What does all this amount to? If one is only watching price, not a great deal thus far. However, that could change.
Perhaps this individual is known to some on Hive here. This is the rebranded Twitter account for WallStreetBets. This is a tweet that was sent out yesterday.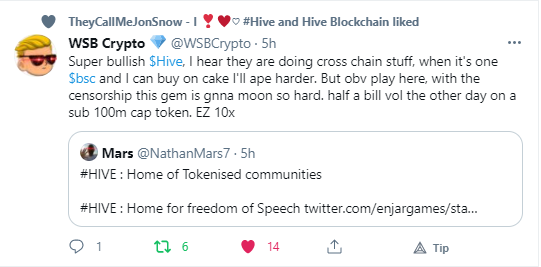 If nothing else we got the attention of one of the top players in the organization that is making financial news of late. His view is that Hive, the token, is an easy 10x from these levels. The points referenced: cross chain integration and censorship resistant.
In other words, Hive is starting to get on people's radar. Yet, this is about a lot more than token price. That is the easy part. We see pumps all the time.
The true baseline is going to be formed by the development that exists. It is what provides staying power. Applications are what draw in users; updates is what keeps them.
We all know the Hive community is a dedicated resilient bunch. Perhaps there is no other community in crypto that took the punches we did, outside of Bitcoin. Nevertheless, not only are we still standing, we are excelling.
The blockchain itself has been optimized to handle a lot more users. It is less expensive to run as compared to before. This increases the overall efficiency by an order of magnitude.
It is something that is not focused upon since the activity, relatively speaking, is low at this point. That will not always be the situation. Soon, we are going to see a test of how much we can handle. Fortunately, it is easy to be confident that we will not run into the problems of Ethereum. We already know that Hive is fee-less, negating one of the biggest drawbacks to that chain. However, traffic is a nightmare, something that Hive will not have a problem with.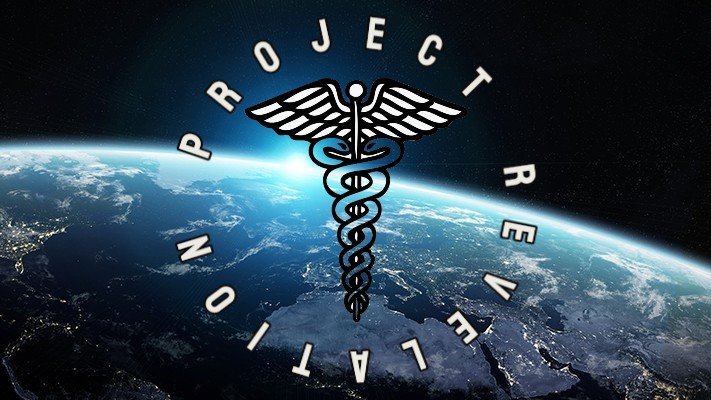 Speaking of traffic, we see an interesting project showing up. This is something that is not going to be everyone's cup of tea. However, as a Hive token holder, that doesn't matter. This is a platform that promotes the idea of censorship resistance, hence we welcome those who are ostracized or displaced by the traditional Internet entities.
Whether you call them truthers or conspiracy theorists, that is just a matter of perspective. Regardless, they are ones who espouse a different point of view as compared to the mainstream narrative. Ultimately, it is up to each individual to decide what is true.
However, a community was formed that takes an interesting twist on what is usually done on Hive. From the introduction post of @projectrevelation, we see this:
Our initial structure is simple: 12 elite content creators and community leaders from different ideologically congruent niches have been chosen to become our first whitelisted creators (with a combined following exceeding 300,000).
Here is the full post:
https://peakd.com/hive-198141/@projctrevelation/welcome-to-the-apocalypse#@brofund/re-projctrevelation-qpa1qj
What obviously stood out is the 300,000 followers. This is exactly the type of market that Hive can tap into. These are likely people who read content that was censored across the web. For that reason, they have fewer options.
This bodes well for Hive. Couple that with the aforementioned WallStreetBets tweet and we can see how some rather large communities are being tapped into.
Of course, all this is in addition to the other tentacles of Hive that are already in the process of growing and expanding.
There is no doubt all of this is a grind. We know the pace of growth is rather slow. However, we keep at it, adding more to the plate each week. As this expands, our ability to appeal to larger sectors of the Internet-sphere increases.
Thus far, we are still looking for that breakout. Those who understand the exponential growth curve grasp there is a point where we reach the elbow of the chart. That is where things head in a massively upward direction.
Before that point, though, it is like watching grass grow. It seems as if little is happening. Does this seem familiar?
Of course, the reality is a lot is happening. The problem is most of us are unaware of what is taking place. That stops once we hit the elbow. Suddenly, seemingly overnight, there looks like there was a bunch of stuff being created. The truth is that it was being worked on all along.
Hive's success is not going to come from massive run up in token price or by getting investors with huge wallets to buy in. While this could happen, it is secondary. Ultimately, the success here will come from the development and the users who are drawn to what is created here.
The first has been going full tilt since the hard fork. Perhaps we are getting close to seeing the second one take place.
Either way, there is a lot happening on Hive. We are not to the point where it is impossible to keep track of everything.
---
If you found this article informative, please give an upvote and rehive.

gif by @doze

logo by @st8z
Posted Using LeoFinance Beta