You may remember the collapse of Northern Rock back in 2007.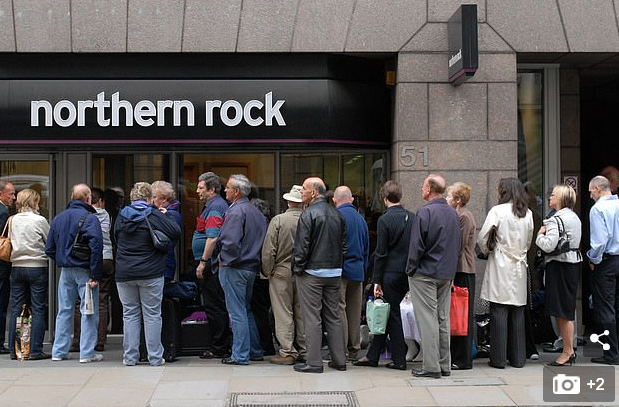 At the time they had 270 000 mortgages on their books, many with very high loan to value mortgages - some people had borrowed 95% of the value of their home and then more with 'top up loans' - we're talking six figure sums for the typical home buyer through Northern Rock.
When the bank collapsed the UK government nationalised it and took 'ownership' of the £10s of billions in mortgages then outstanding, 6 years on from the nationalisation they then sold a £13.5 billion package of Northern Rock mortgages to the independent finance firm Cerberus.
12 years on from the collapse of Northern Rock, and Cerberus is now charging
an estimated 250 000 ex Northern Rock customers interest rates much higher than the Bank of England base rate - over 5% compared to 1%, and they are under no obligation at all to offer their customers lower rates because they are not a mortgage company and thus not regulated by the UK mortgage authority (they're not even a UK company!).
And the problem for many of these customers is that they took out their original mortgages with High Loan to Value, and since they haven't been able to pay any significant chunk of their mortgage off, they can't remortgage because now mortgage regulations have changed and companies are no longer offering 90% value of property loans any more!
According to UK Mortgage Prisoners Action Group, if someone had a mortgage of £165 000 they've overpaid somewhere between £25 000 to £40 000 over the last decade, compared to what they would have paid with a market-average loan.
The hardest hit have been those who were on interest only repayments - they are stuck with them and unable to pay off their capital because Cerberus (unregulated) isn't obliged to offer them a switch to a repayment mortgage (although apparently they are obliged to contact these customers once a year and tell them they are on a 'bad deal' even though they can't change!)
For these people they're just paying hundreds of pounds every month and the outstanding loan amount remains the same.
It gets even more twisted - many of the people who had Northern Rock mortgages were key workers, and so why the nation has been busy clapping for the NHS during Covid-19, some of those front line nurses are trapped in this mortgage nightmare!
It's a really sorry case - these victims are essentially caught between the worst aspects of deregulated capitalism and nationalisation - the two together have kind of caught them in a pincer move that's cost them absolute fortune.
It's a timely reminder to NOT mortgage yourself to the hilt and always leave some wiggle room so you can get out if you need to!
I'm also left thinking that this is kind of how nation state capitalism works - with depressing regularity you get a cross section of the population who, through no fault of their own, just get their live's well and truly shafted, and it's normally not the wealthiest, they wouldn't have required a Northern Rock style mortgage in the first place!
Posted Using LeoFinance Beta