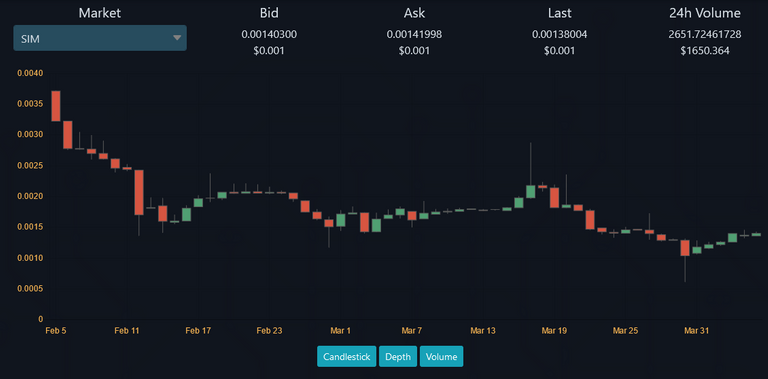 It's been a Week Since the SIM MEGA DUMP
When the announcement that third edition cards will not be until sometime in May, one of the SIM whales got spooked and dumped all his SIM tokens. This was a great opportunity for some to pick up SIM tokens at a HUGELY discounted rate, but when the game mechanics kicked in, we were all in for a big surprise.
One of the "fail-safes" in dCity is the "INCOME TAX" which is based on the selling price of SIM. That means it is within our ability to BUY up SIM tokens (increasing their value) and DECREASE the tax rate! However the opposite is true also, as we discovered. If anyone decides to DUMP SIM, then the tax rate increases. It seems the max INCOME TAX is 74%, but adding that with other taxes (even up to 20% basic tax, which does nothing) and other taxes, it can get painful. It's not impossible for the tax rate to exceed 100%. OUCH.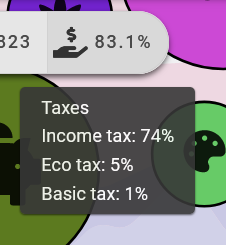 Is the SIM TRAIN is About to Leave the Station?
Like all strong assets, SIM is recovering slowly and solidly. The dump shoved it down to an historic low of 0.0006 HIVE, but it immediately recovered to 0.00106 HIVE. The very next day it was 0.00115, then 0.00120, then 0.00126, then 0.00132, then 0.00135 and today 0.00135.
I am not a financial advisor, please invest at your own risk, I am giving my opinion
Given this trend, I believe we will see consistent selling lows of 0.0014 - 0.0020 in the next few weeks. There is very little reason to dump SIM at this point. There are many incentives and reasons to purchase SIM while it's cheap!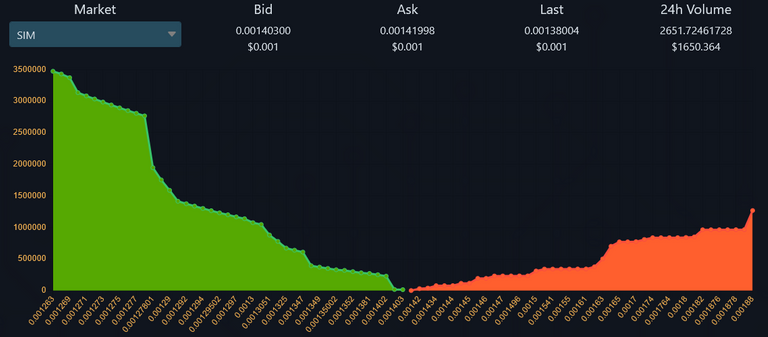 The next wave may be UP, rather than down. Look at the GREEN MONSTER, ready to devour all those undervalued sells.
SIM Still Undervalued (And Valuable)
There are many excellent opportunities with this particular token, even if you don't play dCity. That is why we are seeing such good trading value. People are interested in buying / selling this token - either selling for some quick HIVE for other investments, or buying because the investor sees it's undervalued.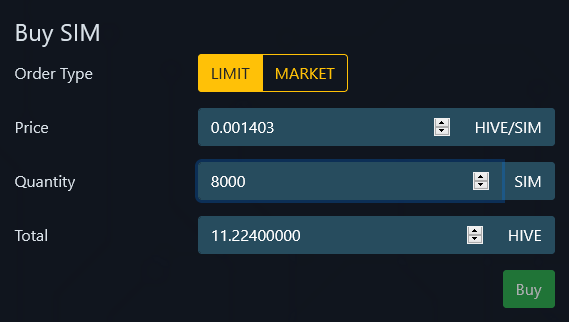 Why? Passive Income.
SIM pays back dividends! Holding 8000 SIM POWER (30 day average SIM HOLDING) will begin to bring in DAILY HOLDING rewards. These HIVE payments add up over time.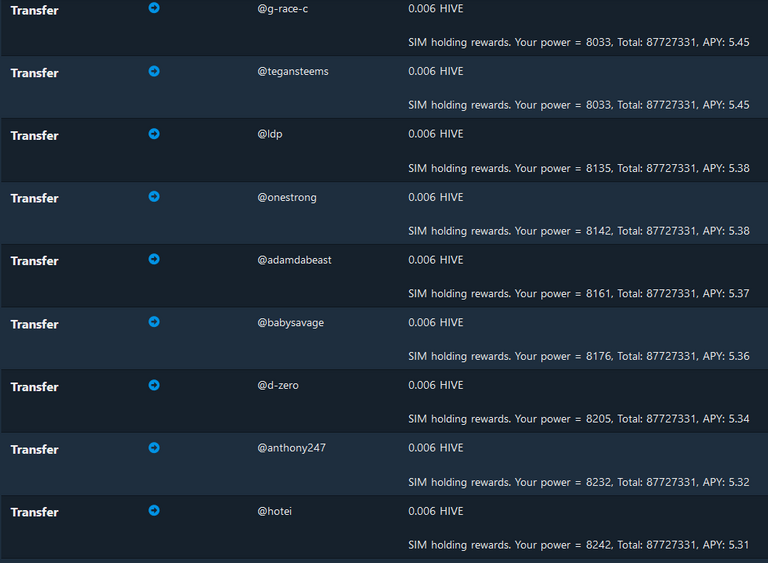 SIM POWER calculated according to a 30-day average of your SIM holding. The APY calculated here is based on SIM being valued at 0.005 HIVE each, so purchasing discounted will give you better returns.
Currently, this is the equivalent of mining 4.23 SIM every day if you re-invested.
Could an Investor turn 500 HIVE into 1600 HIVE?
Because SIM is being sold so low right now, a 500 HIVE investment would buy you about 325K SIM.
This investment would eventually begin MINING 0.20 - 0.30 HIVE every day after gaining enough SIM POWER.

Because the in-game peg for SIM is 0.005 HIVE, there is a high likelyhood that the sell price will near that amount again as the game improves and develops. dCity is still currently in BETA. As the game progresses and returns to it's PEG, that 500 HIVE investment could be sold someday at around 1600 HIVE.
The return to peg is likely because of the carrot (daily HOLDING rewards) and the stick (INCOME TAX). dCity gamers do not want the high taxes, at least not forever! When will will we see 0.0045 - 0.0048 (or more) sell prices? WEN?
That is up to you to determine.
Do I Need to Build a City to get dCity Holding Rewards?
No.
Purchasing NFT dCity assets and building your own city, is a fun way to mine daily SIM and to earn daily HIVE rewards based on city population. There is no requirement to play the game to invest in SIM or benefit from SIM holding rewards.
Managing your own city to reduce crime and optimize resources is a fun pass time that doesn't require a lot of time investment.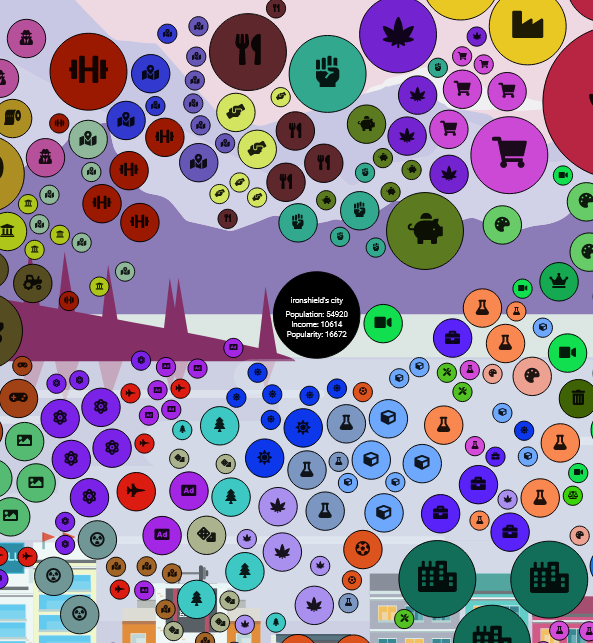 Knowing all these bubbles are mining HIVE, SIM, WEED, BEER, GAMER, and EVENT tokens is kind of nice.
Free to Play: Investment to BUILD
Some games require HIVE up-front to play, but this game offers passive income based on purchasing the in-game token and holding, whether you play or not! How cools is that?
Building assets are super cheap right now, many are being GIVEN AWAY!
And you OWN the NFT assets. They are litterally YOURS. Not the game designers, not some server owner over seas. If you have your keys, you have the goods.
The city is YOURS!
If you are a new player looking to get started, comment below. Many dCity players are eager to help new city builders. There is tons of free (and good) advice, along with opportunities for free building assets and technologies. The generosity of dCity players are LEGENDARY.
---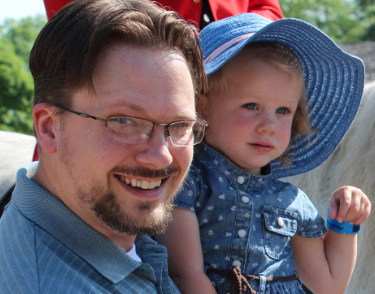 Benjamin Turner: God fearer. Rooted in Messiah. Husband of @lturner. Father of FIVE wonderful children. The guy behind the camera. Blockchain enthusiast.
Bless the Most High!

Teach Your Children Liberty from Sin
We encourage parents to teach their children principles of Godliness, beginning with the Word and an understanding who God is and what His Son has done to form a relationship with us.
No one can lay a foundation other than the one already laid, which is Jesus Christ. If anyone builds on this foundation using gold, silver, precious stones, wood, hay, or straw, his workmanship will be evident, because the Day will bring it to light. It will be revealed with fire, and the fire will prove the quality of each man's work. 1 Corinthians 3:11-13
Teach Your children Liberty from Tyranny
Second to this is the principle of self-determination and freedom, lest we loose the ability to teach our children the first principle in future generations. Our children read the Tuttle Twin books, specifically to learn libertarian principles, which most people learn later in life. These books are useful for our family, and yours, to teach children concepts that seem complicated, but are made simple in these books.
For a limited time, use coupon code FORTY for 40% off your purchase! Check out the books here.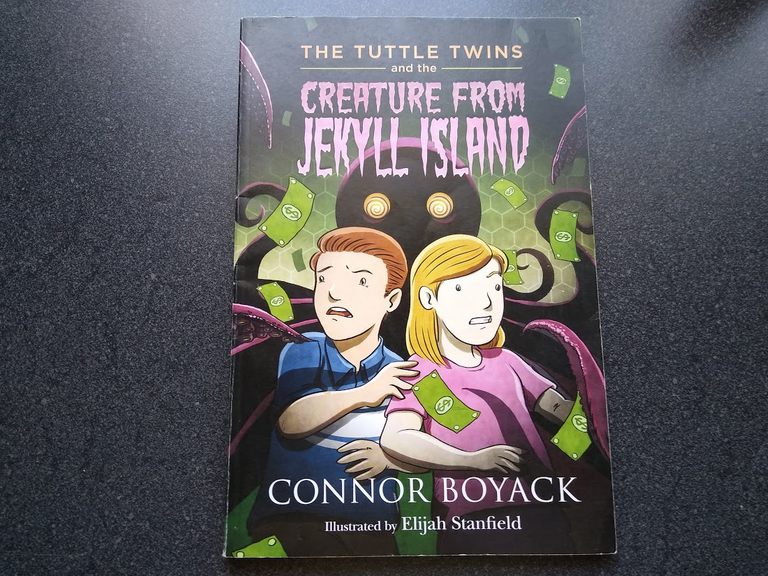 "SMART PEOPLE today are figuring out how to trade without the creature being able to control them - using things like gold and silver products, garden co-ops, online bartering and digital currencies such as Bitcoin."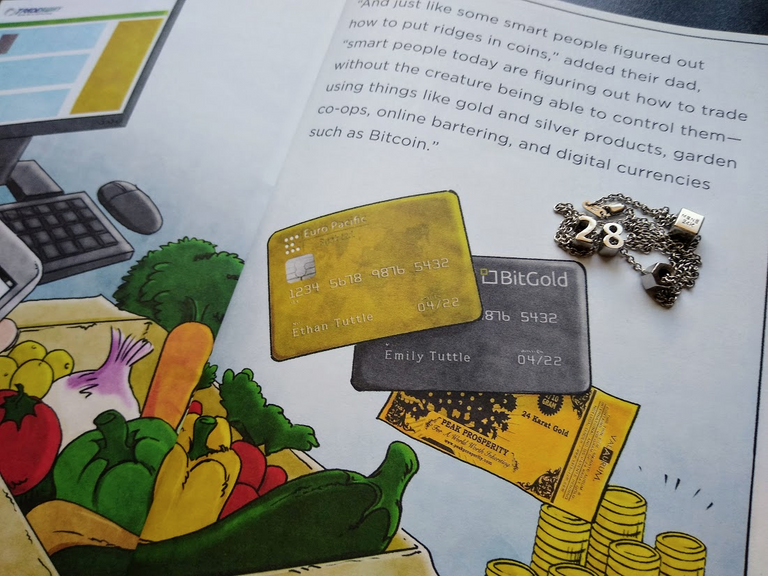 If you like my content, please consider a generous upvote and SHARE
I appreciate my readers and do my best to read and respond to your comments. Thank you for your support, it's what keeps the lights on!
sir, i upvote you for your upvote i thank you dear
Posted Using LeoFinance Beta