For more than three years I have been getting 'basic income' on my posts, and all the people that I have sponsored previously are also getting votes. These votes often have the effect of 'attracting more votes', and in this way the overall experience is much more pleasant, I am encouraged to post about my life and keep my quality high.
I am talking about HIVE SBI - formerly known as @steembasicincome

When HIVE split off from STEEM, the @steembasicincome program split as well, and users were and are able to use their units on either chain to buy more units on the opposite chain, in this way a great expansion of units was possible.
What is so great about HIVE SBI units, is that you are not required to post everyday to take advantage of them, the units generate a 'r-shares balance', and from that balance votes are delivered whenever posts are made. This stock and flow model is just what is needed for humans who are less regular than machines. Perhaps today I will post three times, but then not again for a week or a month. This is the reality of being human, and as far as I have seen, Hive SBI is the only program that codes for this recognition.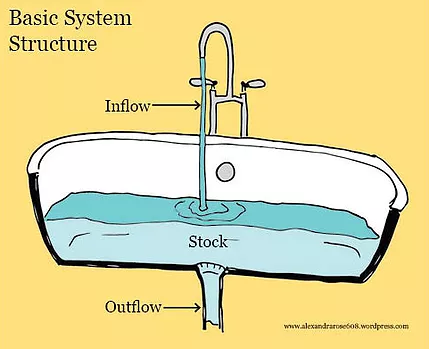 Source: Standard bathtub stock/flow model
Hive SBI is in the process of getting a new logo, and will seek to be a strong partner to those users and projects that are building on HIVE blockchain. Consider nominating another user by sending 1 or more HIVE to @steembasicincome with the user account as a memo.
This will increase both your and the nominated account units in the Stake Based Income program.
I will be looking to assist in the upcoming promotion, I am a community manager for the program on HIVE SBI DISCORD where you can go to get any and all of your questions answered.
Its a long term hold, and it has performed very well in my portfolio and strengthened my motivation to continue to use HIVE. This is not financial advice, just social advice, I am not a financial adviser, just a community manager haha.
Ask me anything!
Freedom and Friendship!
Posted Using LeoFinance Beta