What an incredible release! With a brand new UI interface, there is a lot to do and learn in the 3rd edition of DCITY. I have just spent the last several hours learning how to load and combine the new cards, analyzing which combines to do, and looking at which cards are getting absorbed.
You can read all about the new edition here.
One thing is for sure, I really think this loading mechanic has something too it. I am the top trainer of homeless and immigrants in the game, and I may be the top miner of homeless and immigrant tokens to train as well. I have trained hundreds of artists and scientists and thousands of workers over the last year, and now its time to load the artists up into the ad center.
These loading functions for income are sure to soak up extra population from the game! One important thing to note is that artist and artists are both worth the same for Ad Agencies, same for scientist and scientists for Space Sim Corporation. Trained immigrants will always be better for population though, while the trained homeless will be better for SIM. Worker cards are more efficient to make criminals while workers are better for cheap population. Just another interesting detail in the ever growing complexity of DCITY!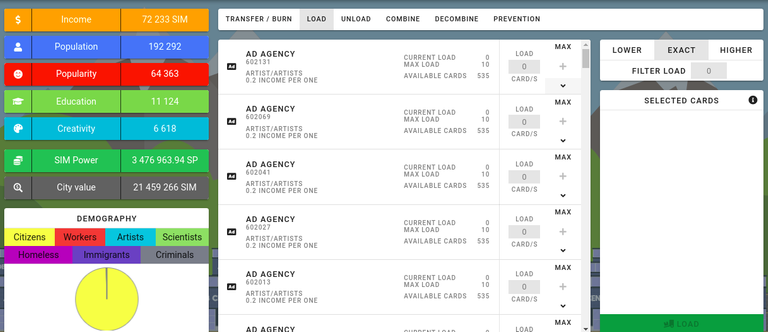 Another change with the interface is that its much easier to see when the artists have education and if the scientists have creativity. These tokens are more valuable than their vanilla counterparts, and can happen spontaneously when there is multiple trainings per day. I have had in the past as many as 84 trainings in a day, which gives an increased chance to create these rare tokens.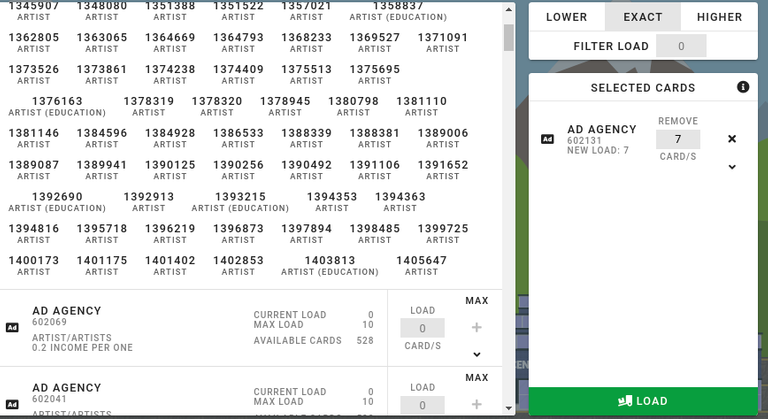 I have opted to search for alternate strategies for playing DCITY than just SIM printing. One of these strategies was the mining of homeless and immigrants and the massive training of them into these citizen tokens. As population becomes more rare, and more mechanics are introduced using these citizens, I hope that this strategy will prove fruitful in the long run.
Combines and Limited Combines
But the most bullish part about the third edition for me is still COMBINE. Take a look at all the cards that have been eaten up in combines so far: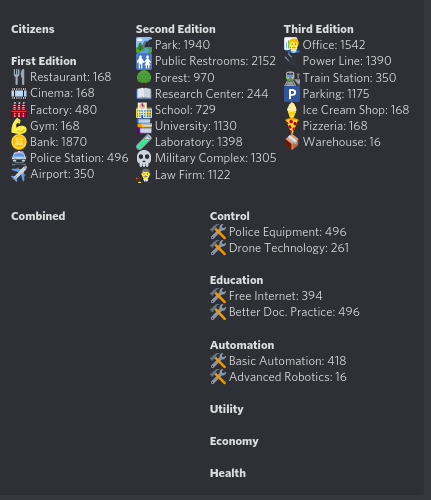 I am most interested in Law Firm and Laboratory, two of the most rare cards from 2nd edition. I think @gerber is right when he says that people will have to buy 2nd edition cards just for laboratories. It seems like more than half of the laboratories ever printed have been sucked up in just the first few days. Consider that it takes 50 laboratory cards to produce 10 experimental lab tokens, which is what is required to print a Vaccine Prevention card 100% of the time when the Pandemic disaster strikes.
Very few players left now can do that, and perhaps some of them haven't done their combines yet (gungunkrishu, justinparke)!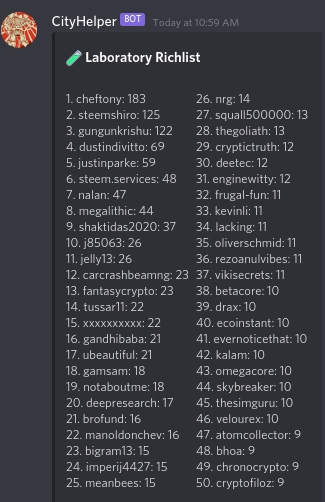 Not only combines, but limited edition COMBINES are incredibly bullish for the prices of individual cards, and SIM in general. CENTRAL BANK combine will be ended after just one month, and these limited cards will be producing crises bond Prevention Cards for the rest of the game.
Other limited combines will be using up other unknown tokens, making it especially important to a player/collector to have at least some of everything.
Taking a look at the SIM richlist, we do see some shakeups, with themightyvolcano buying up a few million more SIM, and previous toppers D-pend and Jelly spending large amounts of SIM on 3rd edition cards. The Governance Power of SIM will keep this richlist extremely competitive, I suspect, as no large investor can afford to not maintain a part of his cities funds in treasury to build their lobbying power.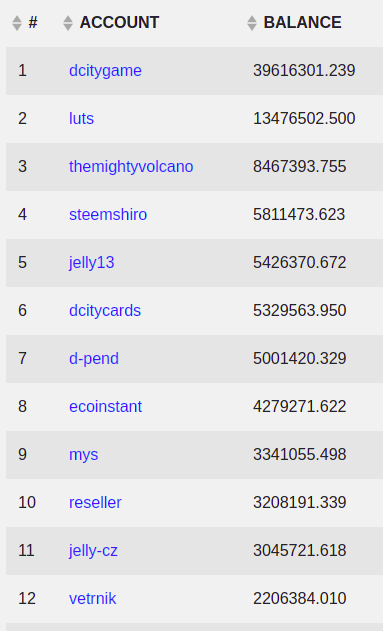 Only time will tell how this will develop. I am playing carefully, but I still believe dcity to be the most advanced #defifarming platform in the entire world! It is my intention to make a getting started guide or two to how to play on HIVE and get involved in DCITY.
By getting a clear work flow for new users to come over to HIVE from BSC, WAX, ETH or Enjin, we have a real chance of converting defi players into our superior product. This is my mission, and a number of players have agreed that this should be our top priority.
We don't need to wait for changes to governance, we can make a difference and tell our friends right now - DCITY has a lot of life left in it!
Freedom and friendship!
Posted Using LeoFinance Beta