Greetings and Salutations from ARCHON Tribe!
ARCHON is a tribe of open development, ideas and automation. We are building layerware tools that can support others - support the users, projects and communities that can make and are making HIVE great. We are pushing the boundaries of what is possible (and even what is desirable) to do on HIVE, with HIVE.
One of our great features is the WORKERBEE MINING POOL

WORKERBEE MINING POOL
Our @archonbank WORKERBEE mining pool has been running continuously for over 1 year now! Users delegate their staked WORKERBEE miners to @archonbank, who currently has 14603 combined WORKERBEE. Each day the mining proceeds are split, giving poolers a continuous stream of BEE. (It takes one cycle from delegation to be included in the pool).
You don't need to be a member of the tribe, just delegate staked WORKERBEE to @archonbank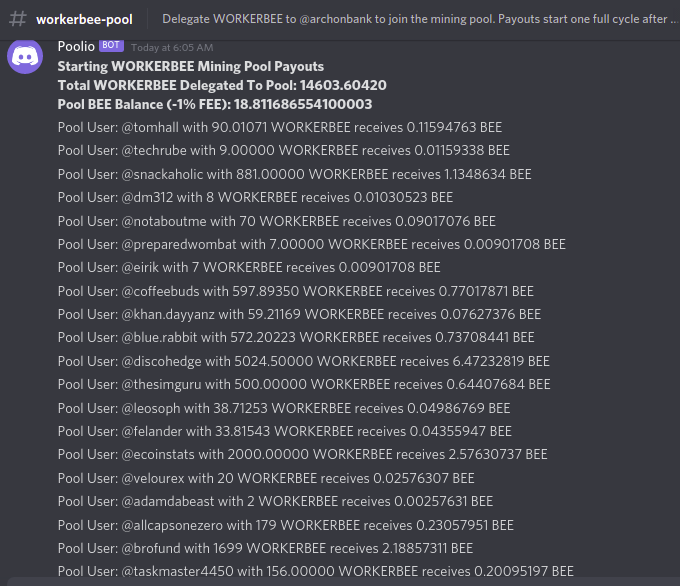 The mining pool takes a small 1% fee and this goes to the @archon-gov account to slowly grow the tribe. It doesn't look like much, but over 365 days, this adds up (365*0.18=65.7/year) and can be used to offset a growing userbase by staking these BEEs, or they can be sold on the market and powered up to grow the governance account.

When staking small or medium numbers of WORKERBEE, the results are completely dependent on luck, and many days might yield zero before a single BEE (1.1 BEE) is delivered to your wallet. But with @archonbank WORKERBEE mining pool, fractional BEE is delivered directly to your wallet from the 2nd day!
Hive-Engine Governance
As @archonbank is one of the top miners in the WORKERBEE space, when hive-engine governance was launched, we were contacted by several witnesses, including @brofund-witness (@brofund) and @locolombia (@ecoinstant).
If there is demand for it, it would be possible to submit these votes to governance, by applying the ARCHON governance layerware to the WORKERBEE mining pool. This could be petitioned for using the Petition System.
You can view the witnesses, who votes for who, and cast your vote on the following site:
https://primersion.com/he-witnesses

Be sure to follow @archonapp and join our discord to keep up to date on all things Archon.
Posted Using LeoFinance Beta