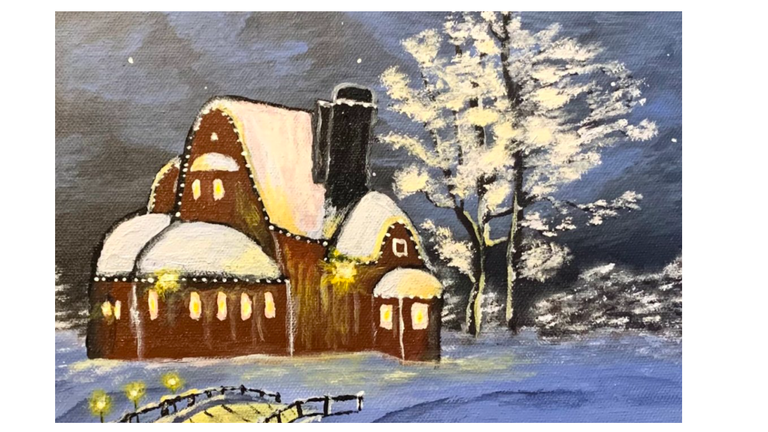 Painting First Winter Scene
Since it's the holiday season, I decided to attempt a somewhat holiday themed painting. I didn't want to go full on Christmas with this, that way the painting could be hung year round... since I'm spending so much time on these painting lately, I don't want to paint something that I would plan to store!
The Process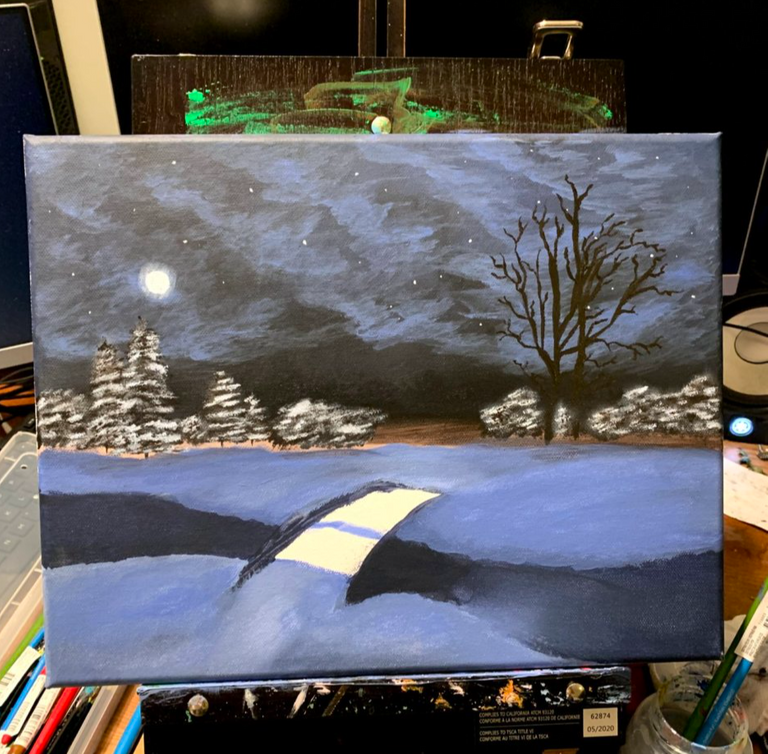 At first I really didn't find doing clouds fun, but after my previous painting I am starting to like to do them more. Mostly because I can spend a few hours on them alone to get all the details right while listening to some holiday classical music. I find this very calming and makes me feel all warm and fuzzy inside.
This was the first painting I've done with trees in it as well. I watched a few guides and followed a guide for this painting. Eventually I'll be able to paint scenes directly from photos without following any guide and apply the techniques I'm learning while doing these paintings... that I look forward to the most.
I think a good idea will be to hold a contest on Hive where I request photos of various scenes and the winner will get some Hive. Maybe when I'm a better artist I can sell these paintings from peoples photos!
Making Mistakes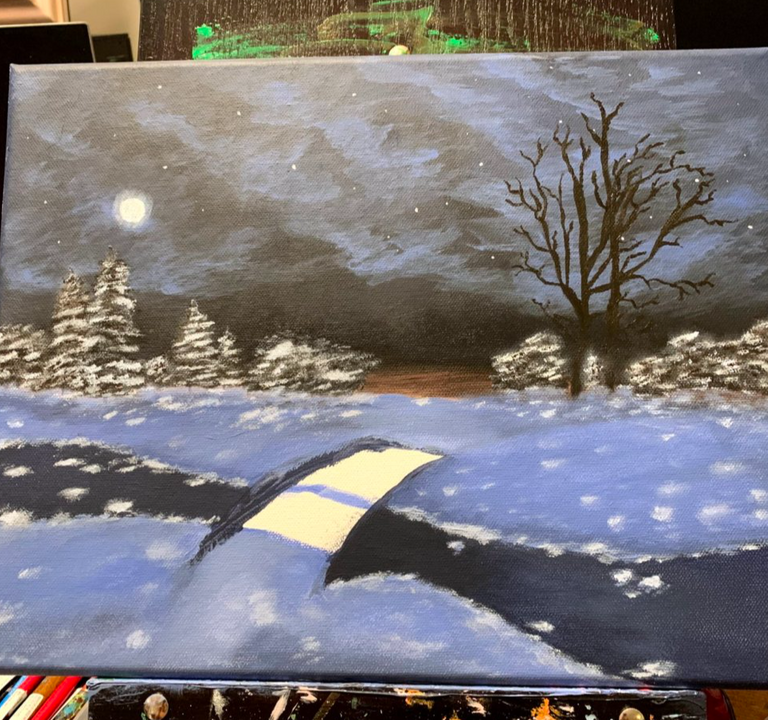 The thing I really like about painting is that it's pretty easy to cover up your mistakes. In this photo I thought it would look cool to have little snowy patches on the ground. Then after stepping back from the painting and looking, I realized that it didn't look good. It was like the painting got infected or something, so I covered them all back up.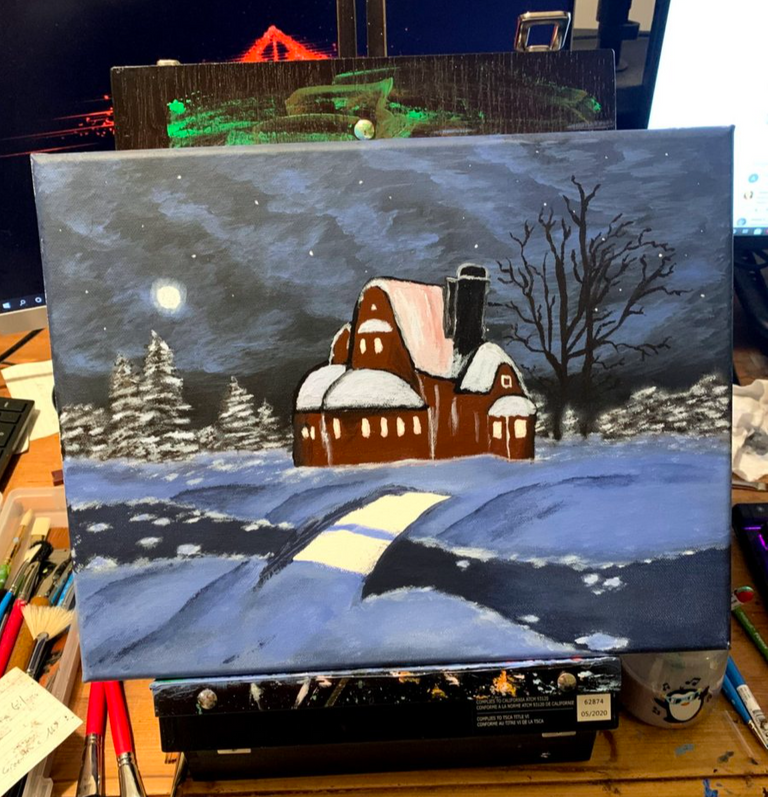 Lighting
One technique I enjoyed learning about the most was the lighting. When I first saw the painting done from the guide, I didn't realize that this part came at the last moment, but throughout the painting process.
This was very important for me to learn because it would be a lot harder to paint lighting in throughout the process because it's hard to know what it will look like in the end and if it will look good, so that you don't have to fix any mistakes you might have made.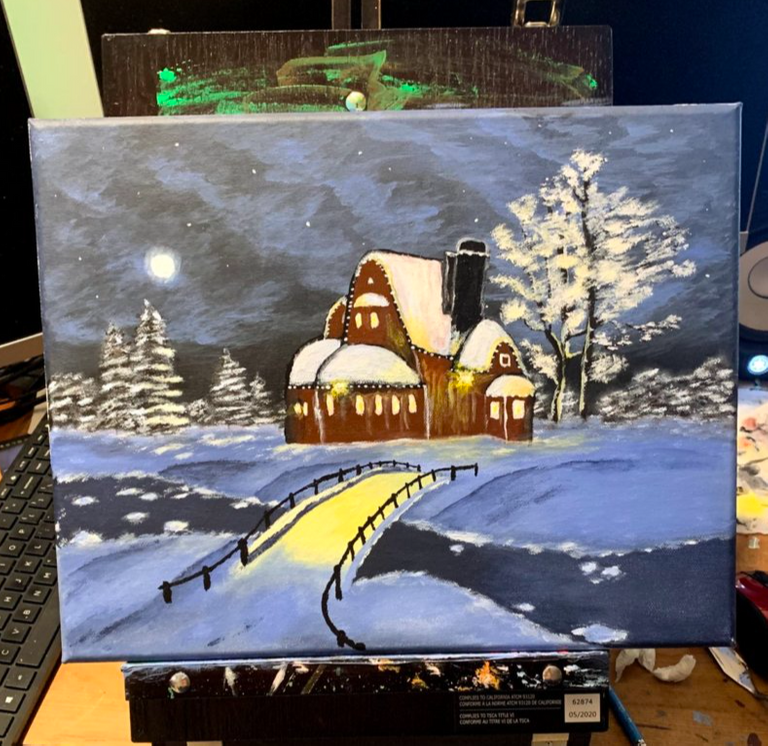 The Final Winter Scene
Here it is the final winter scene. It took me about 15 hours or so to make this painting believe it or not, but it will be with me and my family forever. I may add a snowman, a sled or children playing but for now I'm just going to leave it as is and keep practicing other paintings so I can get better and detailing those type of things before I screw this one up any further.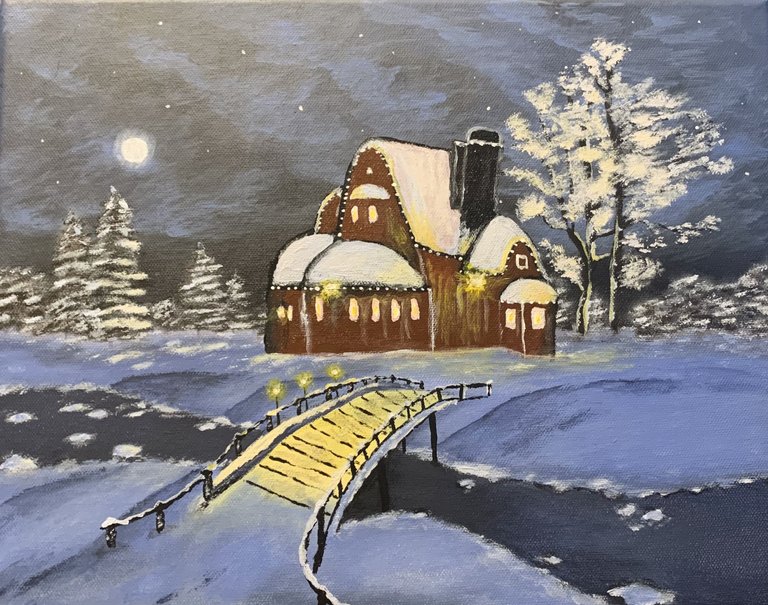 Next up is Abstract
The next type of painting I plan on doing is going to be abstract. I'm not the biggest fan of abstract because it requires a lot more out of you, since you can't follow a photo, model, etc. It's really taxing on the mind and the mistakes aren't easy to clean up... but I'm going to enjoy the challenge!
---
Check Out My Art
---